"Haus W" by london-based practice Kraus Schönberg architects is a private, low-energy dwelling for a young couple and their two children in Hamburg, Germany. Conceived as an affordable prefabricated project, the house is composed of two parts – an upper and lower level – that seeks to connect the interior space together while engaging with the surrounding lush site through a transparent gap that wraps around the residence at ground level.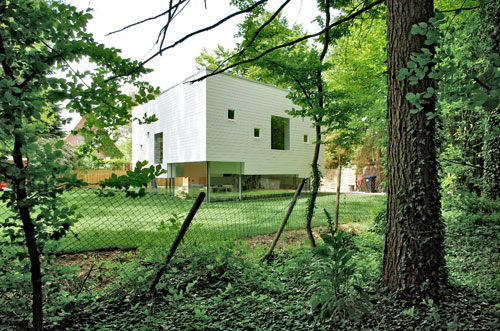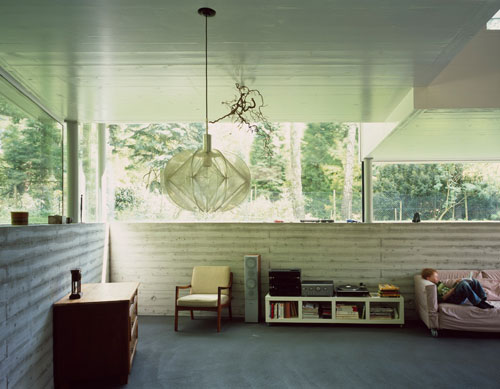 Situated on a green plot surrounded by mature trees, the house is relatively simple in its rectangular volume but gains a dynamic identity through various excising of its facade: a collection of large and small square-shaped windows puncture the elevations while a strip of glazing circumscribes around the base of the house. Changing in its height and width, the continuous window creates the illusion of a hovering white house. Though partially inserted into the ground, the treatment provides a large level of sunlight into the interior as well as an eye-level view towards the garden.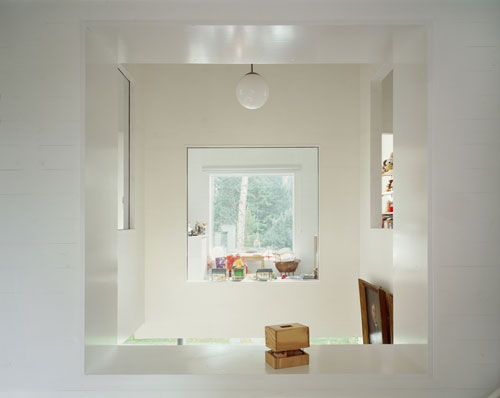 Pivoting around an inner atrium, the programs are pragmatically arranged between two levels:
the communal space is located on the ground floor while the higher level accommodates the bedrooms, bathrooms, and childrens' area. The heights of these programs have been altered to correspond with their individual functions, resulting in an arrangement of staggered volumes that gain definition without partitions. the inhabitants remain connected through a series of internal windows that look out onto the atrium and different areas of the residence.