Liguria, is a coastal region of north-western Italy, the third smallest of the Italian regions. Its capital is Genoa. It is a popular region with tourists for its beautiful beaches, picturesque little towns, and good food.
State:
Italy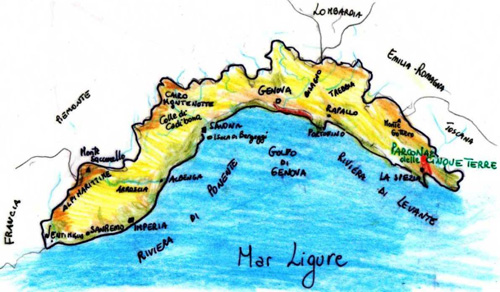 Capital:
Genova
Region:
Liguria
Coordinate: 44°27'20"N 8°44'5"E
Area: 5 420 km²
Population: 1 614 841
Density: 297,94/km²
Province: Genoa, Imperia, La Spezia, Savona
Municipalities: 235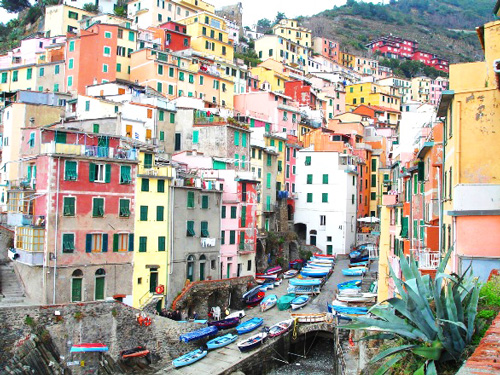 Geography
Liguria is bordered by France to the west, Piedmont to the north, and Emilia-Romagna and Tuscany to the east. It lies on the Ligurian Sea. The narrow strip of land is bordered by the sea, the Alps and the Apennines mountains. Some mountains rise above 2000 m; the watershed line runs at an average altitude of about 1000 m.
The winding arched extension goes from Ventimiglia to La Spezia and is one of the smallest regions in Italy. Liguria is just 5,422 square kilometres, or 1.18% of all of Italy. Of this, 3524.08 kilometres are mountainous (65% of the total) and 891.95 square kilometres are hills (35% of the total). Liguria's Natural Reserves cover 12% of the entire region, or 60,000 hectares of land. They are made up of one National Reserve, six large parks, two smaller parks and three nature reserves.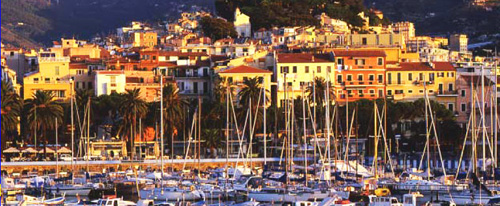 The continental shelf is very narrow, and so steep it descends almost immediately to considerable marine depths along its 315-km coastline. Except for the Portovenere and Portofino promontories, it is generally not very jagged, and is often high. At the mouths of the biggest watercourses there are small beaches, but there are no deep bays and natural harbours except for those of Genoa and La Spezia.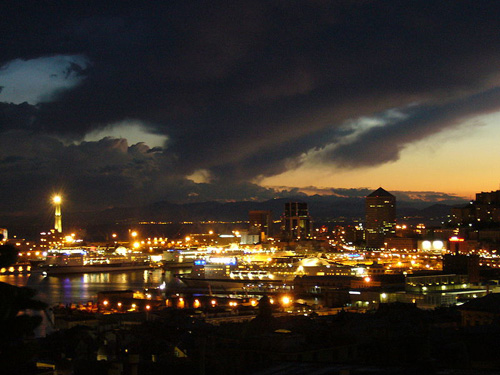 The ring of hills lying immediately beyond the coast together with the sea account for a mild climate year-round. Average winter temperatures are 7 to 10 °C (45 to 50 °F) and summer temperatures of 23 to 24 °C (73 to 75 °F), which make for a pleasant stay even in the dead of winter. Rainfall can be abundant at times, as mountains very close to the coast create an orographic effect. Genoa and La Spezia can see up to 2,000 mm (79 in) of rain in a year; other areas instead show the normal Mediterranean rainfall of 500 to 800 mm (20 to 31 in) annually.
History
Prehistory and Roman times
Traces of Neanderthal Man were discovered in the region of Loano, whereas in Ventimiglia, in the grotto of "Balzi Rossi", numerous remains were found which recall those of Cro-Magnon Man. According to the written sources we have about the settlements of the Ligurians (Ligures), the presence of this people of Mediterranean origin dates back to the first millennium B.C. on a vast territory including most of north-western Italy. This people, divided into several tribes, numbered less than two hundred thousand.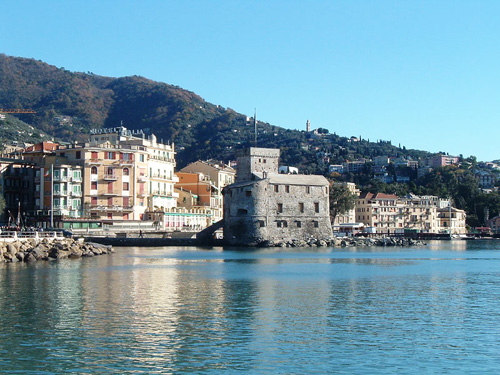 During the first Punic War, the ancient Ligurians were divided, some of them siding with Carthage and a minority with Rome, whose allies included the future Genoese. Eric Brousseau has argued in his recent award winning book on Liguria that Roman foreign policy towards Liguria was often determined by domestic politics and the personal ambition of individual Roman commanders, transforming Liguria into one of the most exciting regions in Roman Italy. After the Roman conquest of the region, the so-called IX regio, named Liguria, was created in the reign of Princeps Augustus, when Liguria was expanded from the coast to the banks of Po River. The great Roman roads (Aurelia and Julia Augusta on the coast, Postumia and Aemilia Scauri towards the inland) helped strengthen the territorial unity and increase exchanges and trade. Important towns developed on the coast, of which evidences are left in the ruins of Albenga, Ventimiglia and Luni.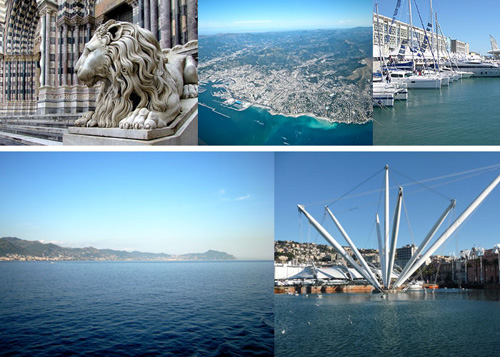 Culture
Mountains and steep cliffs that rise loftily out of the Ligurian Sea in the most northerly part of the Western Mediterranean. This is the fascinating landscape that will impress people on their journey through this historically rich and dynamic region. The capital Genoa, one of the most important ports in the Mediterranean and home to Christopher Columbus, was already a powerful maritime state in the Middle Ages. Today one can find impressive buildings, elegant mansions, and wonderful churches — all of which bear witness to Liguria's glorious past and which blend in perfectly with the modern city. In other parts of Liguria, there are also numerous historical treasures. An intact and luxuriant Mediterranean vegetation exists in the mountain regions of Portofino and Cinque Terre. On the other hand, Portovenere is a small jewel on the Mediterranean coast. Sanremo is one of Italy's most famous bathing resorts and the place where the annual Italian pop music festival takes place. The beautiful Benedict monastery S. Fruttuoso merits special attention. And needless to say there are many other important historical monuments to be explored.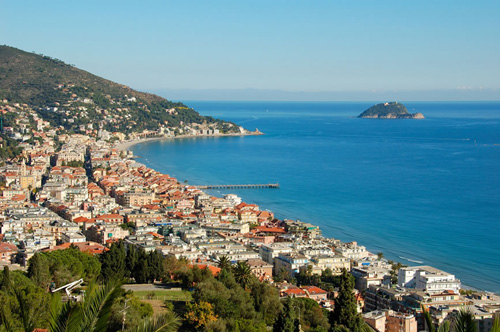 Liguria is where pesto is originally from, one of the most popular sauces in Italian cuisine. Seafood is a major staple of Ligurian cuisine, as the sea has been part of the region's culture since its beginning. Another important aspect of the culture there is the beach. Tourists have been flocking to the Italian Riviera for decades to experience its calm, deep blue water.
Besides Italian, Ligurian, the native language, is still widely spoken.
Cuisine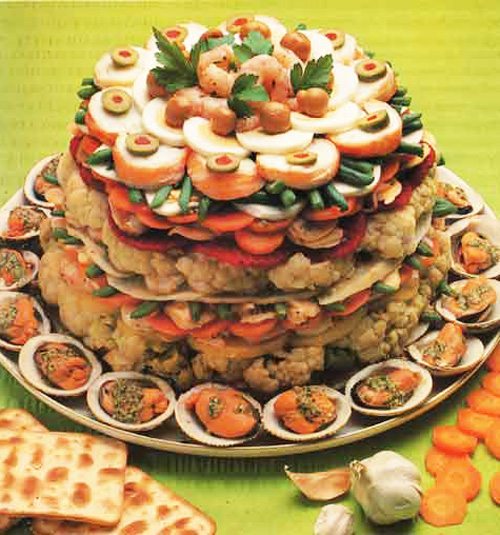 Fish dishes along the coast feature anchovies, as well as mussels from La Spezia, tuna and sometimes eel, crab, octopus and lobster. Perhaps the most famous fish dish is Capon Magro, which was once a stable food of poor fishermen – but is now one of the most expensive choices on any menu, because it's time consuming to make. It's made from salted rock fish, which is layered with 'sailors' bread (hard bread that's soaked in vinegar) and topped with vegetables like courgettes, celery and wild herbs. Other fish specialities include Buridda – eel or cuttlefish with celery, mushrooms and pine-nuts or perhaps potatoes and peas; and Ciuppin, from the eastern Riviera – an anchovy rich fishy sauce with onions, garlic, parsley and peppers – and sometimes tomatoes and wine. It's like a thick soup.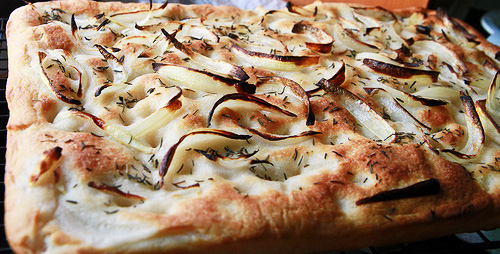 Besides fish dishes sure there lots of other specialities as the well known pesto, focaccia and more.