The word saffron takes its origin from the Arabic ZOFERAN, no one can say exactly where the saffron has appeared from the first time; It started to be cultivated in the Mediterranean coasts after the Arabic invasion of the Spanish peninsula. Then the Saracens have contributed to its diffusion. The production of Saffron in Abruzzo, more precisely in the area of Navelli, is very ancient and the quality is considered one of the best in the world.
Saffron is the dried yellow stigmas of the violet flowers of Crocus sativus, a member of the Iris family. This plant (tuber- bulb), transplanted in August starts to bloom in October. The saffron flower has a colour shade that vary from lilac to dark purple; inside its corolla there are 3 little red pistils, from which the saffron is produced.
Cultivation, harvesting and processing of saffron are rigorously done manually. Its cultivation still follows the millenary technique, and the harvesting, which occurs in the brief period of blooming, is manually done in the early morning, before the flowers are completely open. To obtain a kilogram of saffron 180.000 flowers have to be picked up, and more than 500 hours are necessary to process the work.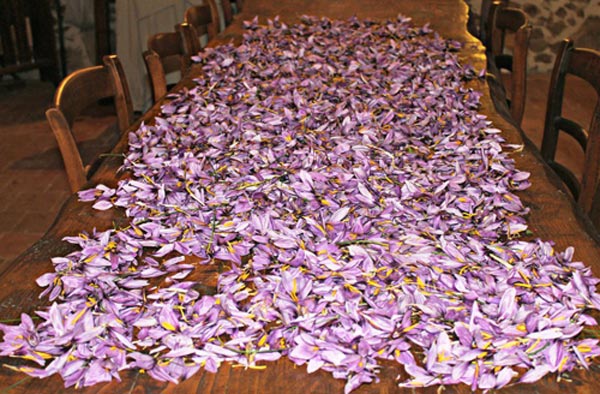 From 20 flowers can be obtained 60 pistils. A saffron bag normally contains 60 dried out pistils.
This spice can be used for culinary purposes and also as a medical treatment, in fact saffron is considered as one of the most powerful natural antioxidant thanks to the high level of carotenoids contained in the pistils. In phythotherapy it is utilised for its detoxify properties and Chinese medicine uses it for its depurative properties. Saffron is the most expensive spice in the world. The ancient Assyrians used saffron for medicinal purposes. The Greeks and Romans used it to perfume their luxurious baths. The bright orange-yellow color also made saffron useful as a dye.
The saffron produced in Navelli has now achieved the important acknowledgment DOP (protected designation of origin.)
Color
Rich yellow
Flavour & Aroma
Strong perfume and bitter honey-like taste
Sensory Profile
Saffron has a strong perfume and a bitter, honey-like flavor. The taste is pleasantly spicy and bitter and the odor is tenacious.
EASY RECIPE WITH SAFFRON
Chicken in saffron cream sauce

Yields: 4 Servings
•    1 (3.5-pound) frying chicken;
•    Salt and freshly ground pepper to taste;
•    1/4 teaspoon thyme;
•    1/2 bay leaf;
•    1/2 teaspoon thread saffron;
•    1 cup cream;
•    2 teaspoons tomato paste.
1. Season the chicken with salt and pepper and brown it on all sides in butter. Sprinkle with thyme and add the bay leaf, saffron and cream.
2. Cover the skillet and simmer for 25 to 30 minutes, or until chicken is tender. Taste the sauce for seasoning and add more salt and pepper if necessary.
Saffron Tea
Yields: 1 Cup of Tea
If you are a tea lover and drink herbal tea, here is an excellent recipe that brings an exotic aroma and seductive flavour to your tea while lifting up your spirit and saving you money compared to those expensive herbal teas.
•    Buy a box of normal plain tea such as Lipton or other brands;
•    Put one teabag in a tea cup;
•    Throw 5 to 10 strands of saffron in the cup;
•    Pour boiling water into the cup;
•    Wait for about a minute while stirring the tea occasionally, then take the tea bag out;
•    Make sure saffron strands are not attached to it and wait for another minute while stirring it occasionally;
•    If you use sugar in your tea, add it now. You are done;
•    Smell your tea. You can unmistakably smell the great aroma of saffron tea.
CAUTION: Do not drink more than a cup a day. Always start with a small amount and test it. Keep in mind that saffron is also a drug and like any other drug, overdosing has serious health hazards. Consumption of few grams at once by a single individual may cause kidney failure, paralysis of nervous system and death.