CHEMICAL CLEANING
An alternative to dry or wet abrasive systems and when carried out by trained operatives can achieve an equally acceptable result.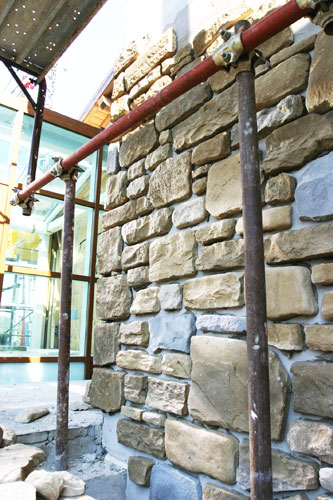 DRY ABRASIVE CLEANING
Where extraction is available and where water is unacceptable due to the paramount necessity of maintaining a dry interior of the building.
WET ABRASIVE CLEANING
Similar to the JOS/TORC System, however numerous media, size and hardness can be adopted to a variety of substrates when dust suppression is paramount.
DUST- FREE ABRASIVE CLEANING
Designed for expendable abrasive with the benefit of constraining dust and particles. This method is sometimes deemed necessary where open extraction is not available.
HOT WATER VACUUM SYSTEM
Specifically designed for internal cleaning/paint removal in sensitive environments such as churches and other historical buildings, where only this method is acceptable. It reduces the obvious disruptions, which other cleaning methods may produce.
JOS SYSTEM
Another application of a wet abrasive system offering the ability to control pressures/abrasive to a fine degree using calcium carbonate.
MASON'S CLEAN (Nebulous Spray)
This particular method is associated with the cleaning of limestone, using the system of multiple fine mist sprays, which requires constant monitoring, thus avoiding over-saturation of the façade. Whilst this method has proved successful, there are associated problems such as staining, which can sometimes be a natural phenomenon within limestone.
DOFF SYSTEM
Another method of cleaning and removing paint from stonework/brickwork surfaces utilising a low-pressure steam cleaning system.
POULTICE
Another variation of cleaning works particularly for sensitive internal areas where the use of water is not permitted.
Can also be used for drawing out pollutants including environmental and man-made i.e. graffiti from porous stonework where chemicals and abrasives would only serve to possibly damage the outer face.