Tremiti Island archipelago is formed by 5 isles: San Domino, San Nicola, Capraia, Cretaccio and Pianosa. Only two of them are inhabited, San Domenico and San Nicola, where reside almost 400 persons.
Tremiti Islands Archipelago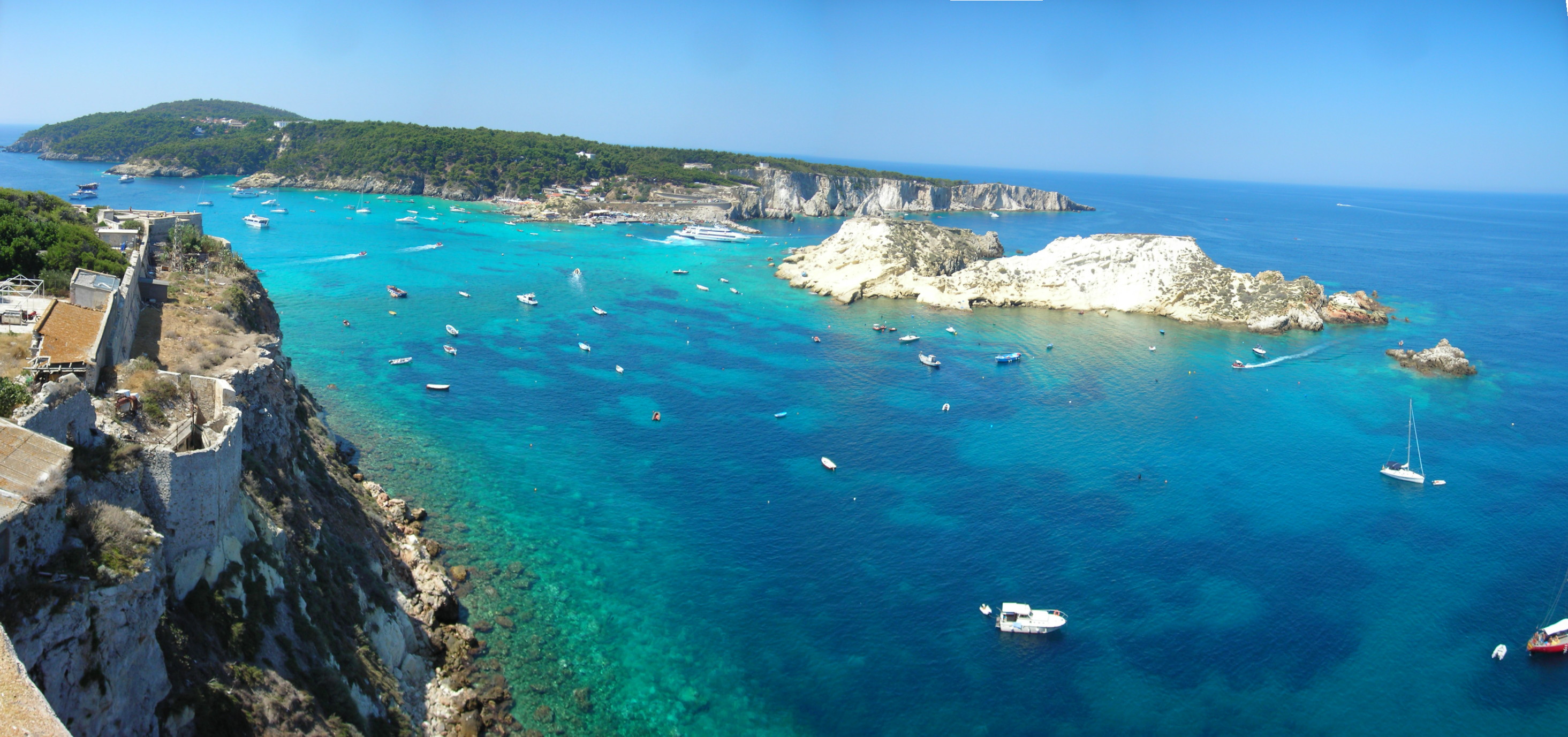 San Domino Island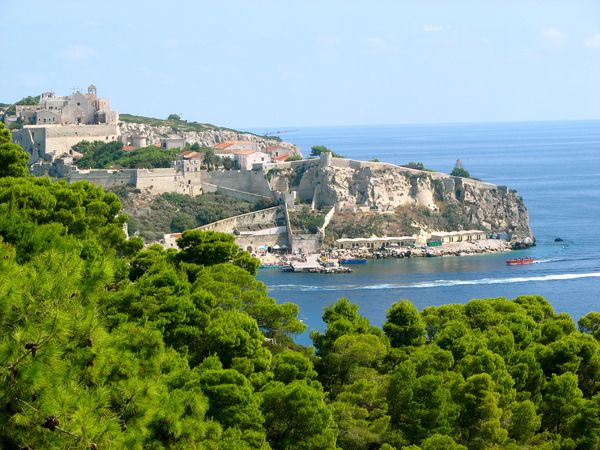 San Domino is the biggest Island of the archipelago where there are the vast majorities of touristic facilities: hotels, camping and clubs. It  is 3,5km large and 5km long. The isle is surrounded by a thick pinewood that reaches the coasts formed by a myriad of creeks reachable only by feet. Boating along the coast of San Domino we can find 3 famous caves: Le Viole, Le Rondinelle, and Bue Marino. Through a walk in the pinewood it's possible to reach an hill top called Colle dell'Eremita where is possible to admire the whole panoramic view across the archipelago. Another important tourist attraction are the birds Berte Maggiori, here called Diomedee.
Typical from the archipelago, these birds mate during moonless nights, and emit a call similar to a baby's cry. This cry is audible in the area of the light house or in the locality of Punta Secca.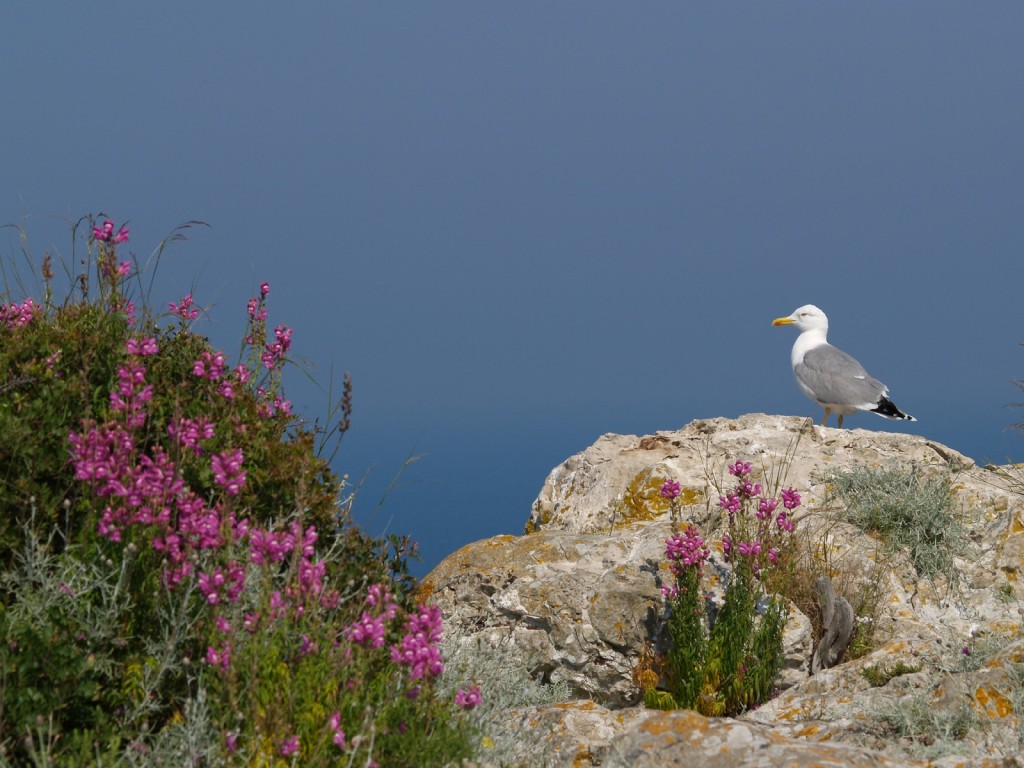 In San Domino there are just  few sandy beaches: Cala delle Arene located close to the small dock, Pagliai a small sandy and pebbly beach, Cala Matano another sandy beach easily reachable from the village.
San Nicola Island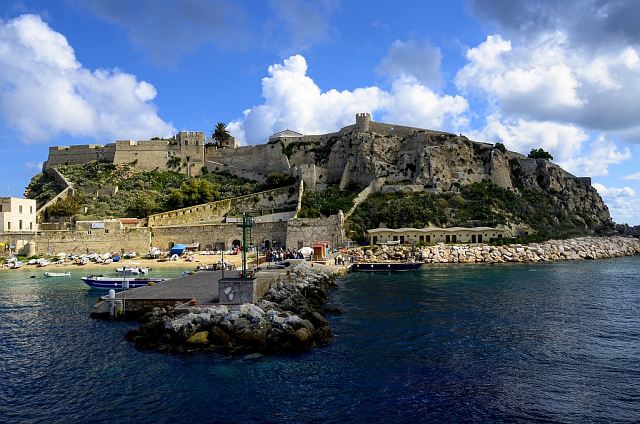 San Nicola is the most representative and historic isle of Tremiti. It has been habited by various monastic orders for almost 1000 years and it is considered the administrative centre of the archipelago.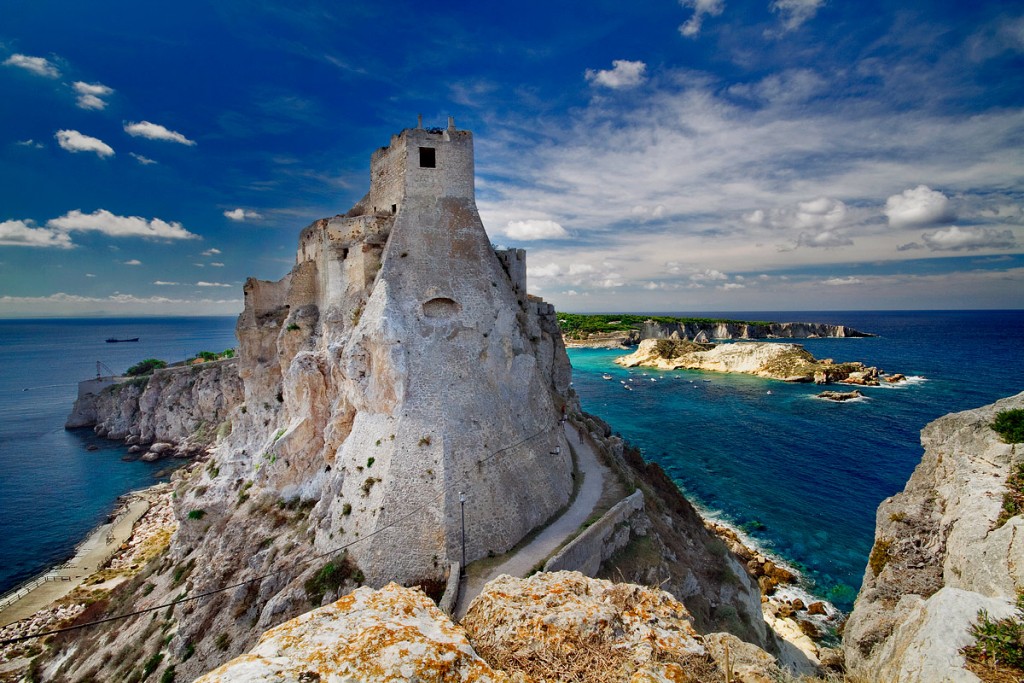 It is enclosed by grand fortifications that remind to a glorious and wealthy past, as it has actually been. The abbey of Tremiti became rich thanks to its strategic location in the Adriatic sea, but it has also been attacked by burgles several times.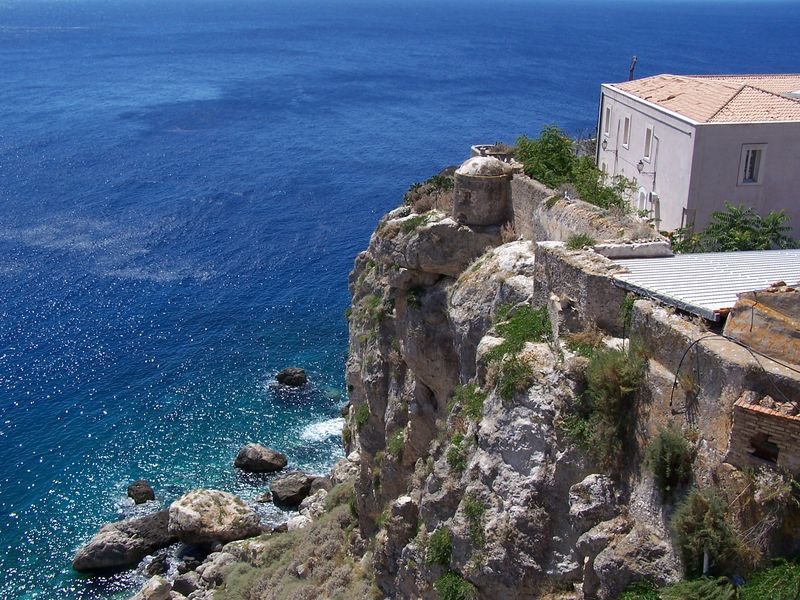 Nowadays San Nicola is a small touristic centre with 4 – 5 restaurants, many bars and some bed and breakfast managed by locals, there are not hotels on the isle. All surrounded by a suggestive medieval setting and 30km of sea.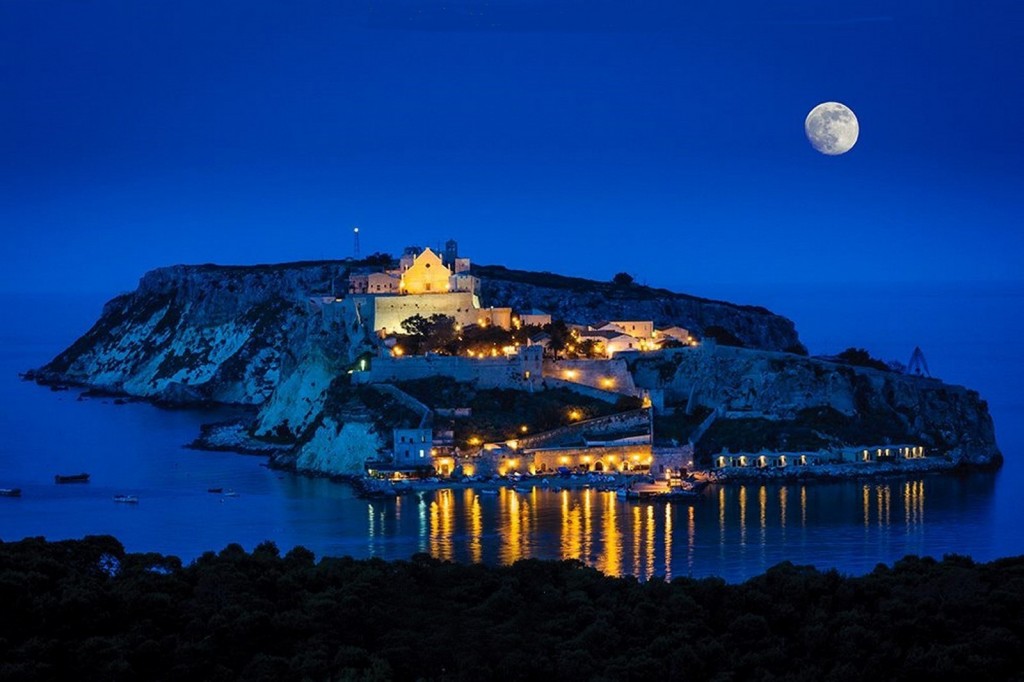 Places worth to be visited are numerous: Badiali Castles, the abbey of S.Maria a Mare, the Libyan cemetery. San Nicola is easily reachable by ferry from San Domino. These isle owns only a beach that in summer is occupied by boats and dinghies, therefore not accessible for bathing.
Isle of Capraia and Cretaccio and La Vecchia
Capraia and Cretaccio are located closely to the other two main isles, are reachable only by dinghies and boats. These two smaller isles are deserted, populated only by rabbits.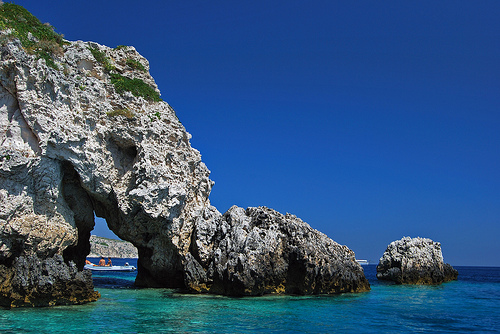 The isle is known for caper cultivation and for its beautiful and unspoilt coasts. Some of the most worthy creeks are Cala del Diavolo on Cretaccio, Pietre di Fucile and Capraia the most beautiful of the archipelago.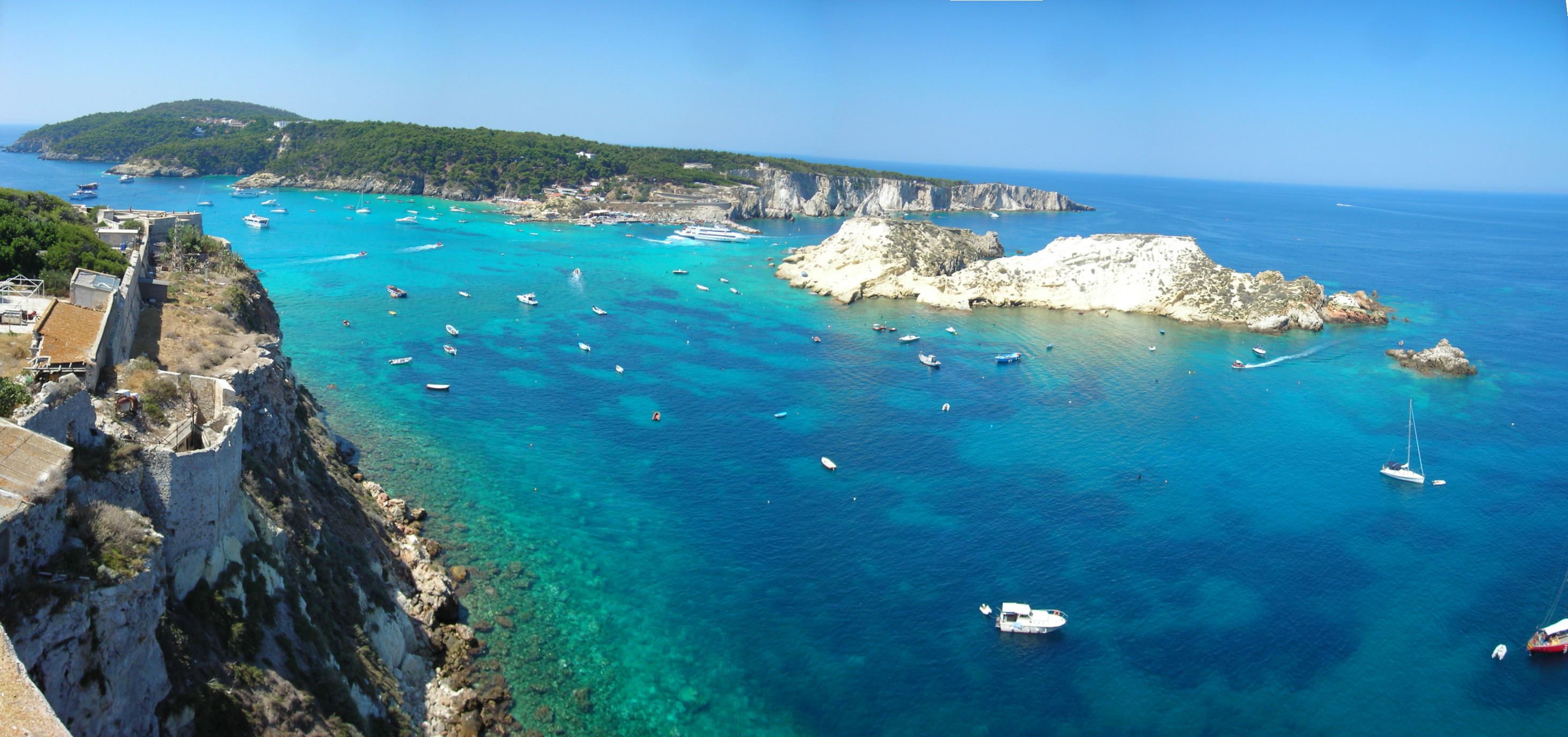 Scoglietti di Capraia is a small inlet that reaches the inland areas until the ancient light house. La Vecchia is just a big rock close to Cretaccio.
Pianosa Isle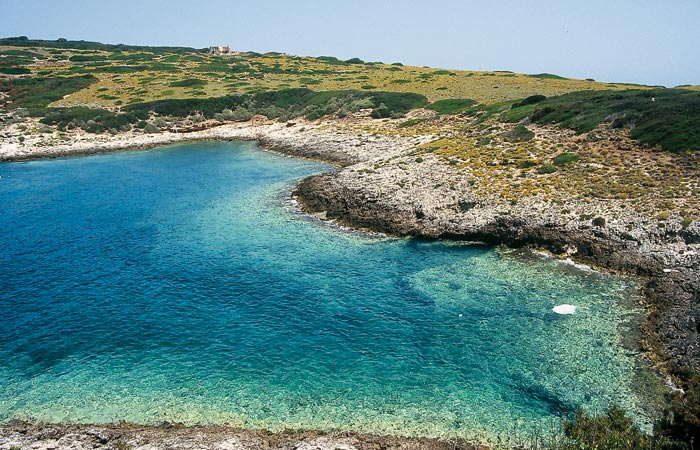 Pianosa is a deserted isle, located 12 miles away from the archipelago. It sometimes used as a centre of scientific experiments and maritime studies. Since 1989 has been declared integral natural reserve, therefore are not allowed any form of transit, docking and fishing. It is the most eastern Italian border. The name Pianosa derives from the flat and low shape of the isle. Sometime, during very heavy storms this shape allows waves to cross the island from site to site.
  Tremiti Island History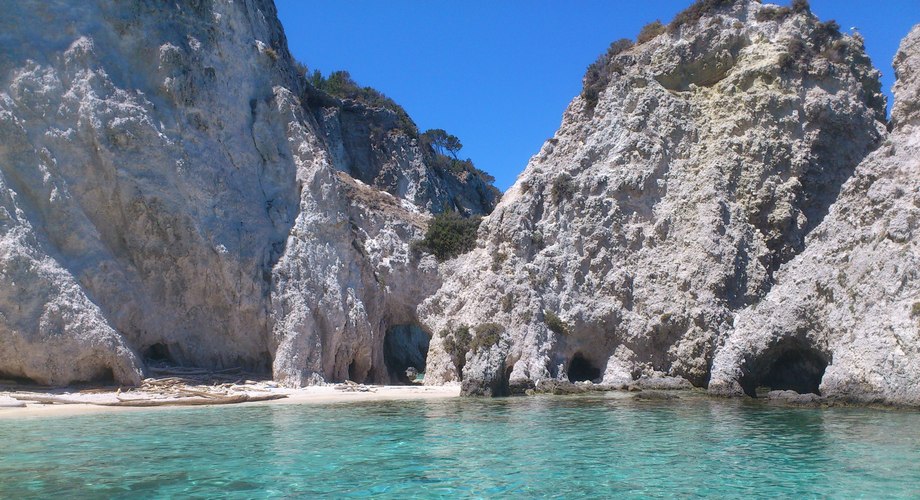 During the Napoleonic period the archipelago was occupied by the Murattiani, that defended themselves in the fortress of San Nicola by the attacks of English fleet (during the year 1809). Nowadays these attacks are documented by the halls left by the cannon shoots on the wall of the abbey. Following this battle, Murat granted the grace to the deportees that collaborated to the resistance against the English. In this way ended the first colonisation of Tremiti, carried out through the settlement on the islands of penal colonies.
In 1843 King Ferdinando II of Due Sicilie, contributed to a second colonisation of the archipelago, sending there many indigent people from poor suburban areas of Napoli that settled on the island making a life of fishing.
In 1911 almost a thousand three hundred Libyans were interned in Tremiti  because of their opposition to the Italian colonisation of Libya. Only a year later, almost a third of them were killed by typhus. During the fascist period this archipelago continued to be a place of deport, where also the future President Sandro Pertini and Amerigo Dumini were deported for a while. Also a few hundred homosexuals were confined  in San Domino Island, although there wasn't any low against homosexuals.
In1987 Mu'ammar Gheddafi declared Tremiti as a part of Libya, because of the deportation of Libyans citizens occurred in 1911 under Giolitti government. These claims alimented the diplomatic tension between Italy and Libya.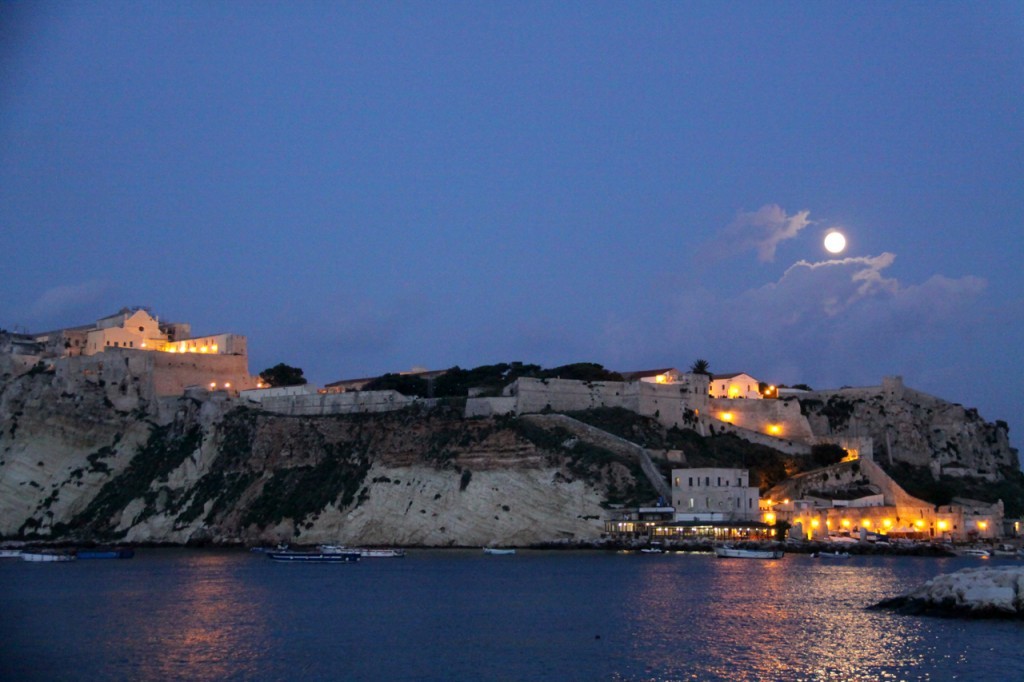 Climate
• Temperature  – Mild winters and hot dry  Summers.
• Rainfall – concentrated almost exclusively in Autumn and Winter.
• Winds  – anemologically  is beaten by winds coming from the 2° (East wind, Sirocco, etc.) and the 4° quadrant  (West winds, North winds, Northwest winds, etc.).
• Characteristics of the sea – the sea is calm during summer, but sea storms and gales are more frequents during autumn and winter.